"I think in art, inspiration sometimes comes in difficult moments; moments of loss. I think human beings, in times of despair, in those moments – creativity helps the healing process," said artist Felipe Ortiz in Spanish during an interview with NHPR.
Earlier this year, the Colombian artist installed a mural featuring the great blue heron, a species of waterfowl found along the Nashua River.
"My paintings and murals are a unique fusion of artistic themes, from representational views of urban scenery to my "Explosive Nature" series," writes Ortiz on his website. "My multicultural upbringing and travels between my native Colombia and the United States has helped me gain a wider perspective in my artistic interests. From Colombia's vibrant culture, colors, sounds, and dense natural scenery, to the States' vast landscape and fast-paced urban environments, there are multiple elements I can pick from each location and merge into the pictorial and self-idealistic vision I'd like to represent."
The mural is 120 feet long and 12 feet tall, stretching along the riverfront, is part of an ongoing partnership between the city and nonprofit organization Beyond Walls to enhance the downtown riverfront. Nashua and Beyond Walls have been collaborating to revitalize the downtown district since 2019 as part of the Riverfront Master Plan.
Ortiz focuses on the practice of painting, from traditional easel painting to murals and public installations.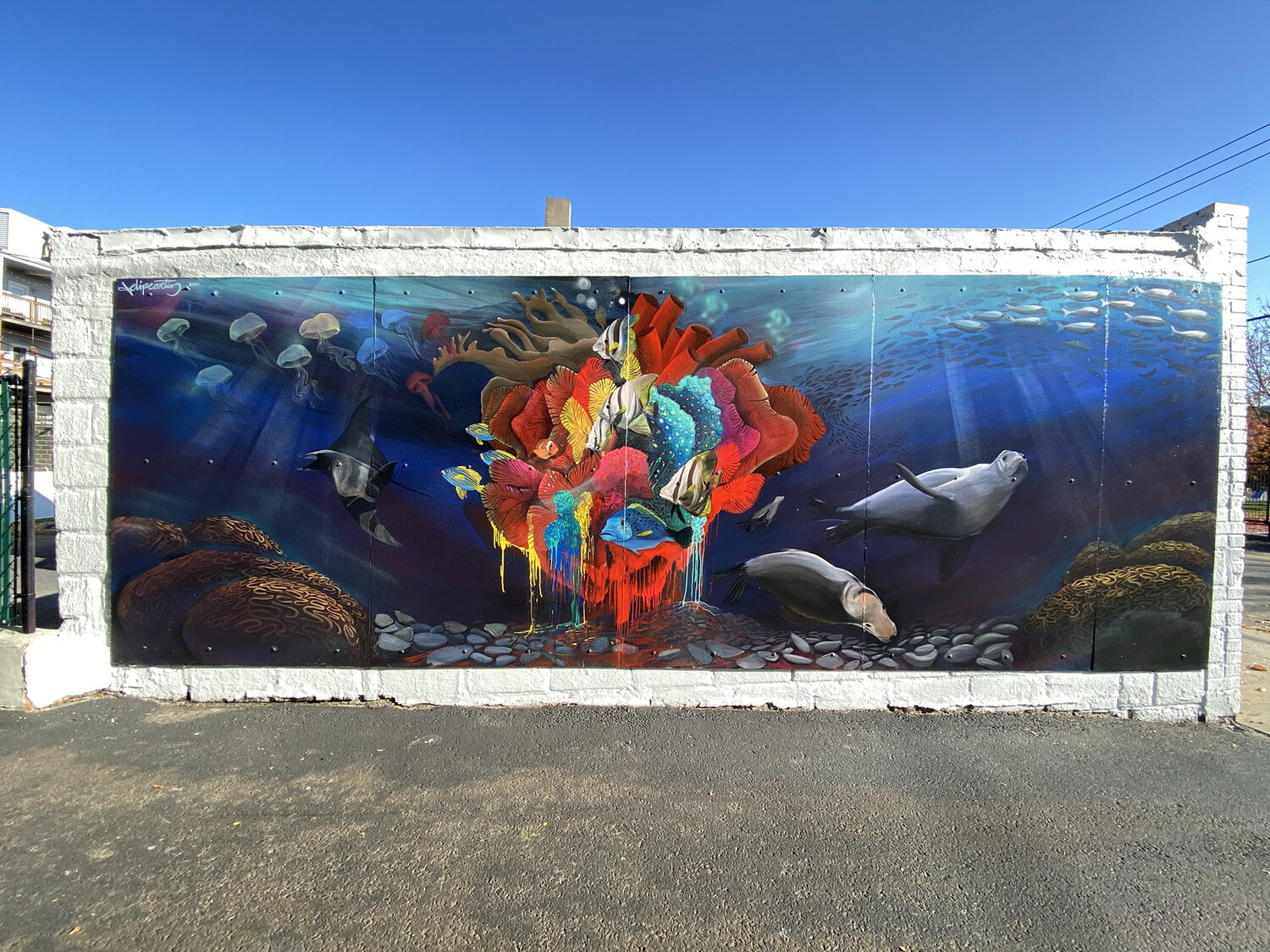 In 2020, Ortiz painted "The Heart of the Ocean", a mural covering a wall adjacent to the Bremen Park Condominiums in East Boston. The coral and images of fish, seals, and other sea life are part of an international public art initiative addressing climate change and ocean deterioration conceived by the nonprofit PangeaSeed Foundation.
"The warming seas can be seen in many places, not just the East Coast," Ortiz said told The Boston Globe. "All of our oceans are connected, so if anything happens in one ecosystem it's like a domino effect."
In 2009, he earned a BFA in 2D Fine Arts from the Massachusetts College of Art and Design. Felipe has participated in numerous art exhibits of private and public collections, including the Fuller Craft Museum, Punto Urban Art Museum, and the corporate loan collection at DeCordova Museum. His installations have been featured in the Knight Foundation's Horizontes Project, Northeastern University's public art collection. Fundación Culata's Muro al Barrio, and the Ministry of Culture in Cali, Colombia. Felipe has been awarded Mass MoCA's 2018 Assets for Artists Grant and the Cambridge Innovation Center's 2016 Artist in Residence.