While summer may be winding down, it can be an ideal time to start thinking ahead for next year's vacation.
Where to go is always a popular question that I get asked. But, as we continue to be in uncertain times during the coronavirus pandemic, if you are looking for a domestic destination within the fifty states that focuses on nature, wildlife, and adventure – then look no further than Alaska.
In August, I traveled to Alaska for the very first time. Hopefully, it's a destination you can plan to visit sooner than later. Looking back, I ask myself why I waited so long.
I finally understood why Alaska is one of those unforgettable experiences that people add to their bucket lists. Going in person far surpassed the beauty of any photos I have seen in magazines or brochures over the years. For example, I was mesmerized to see numerous glaciers in Alaska up close. It's incredible when you can see the different hues of blue and feel how cold the surrounding temperature is. Another unique experience was witnessing a humpback whale passing by in its natural habitat, which happened several times on my trip.
As we get closer to Hispanic Heritage Month, I wanted to share this recent trip, especially for Latino and Hispanic travelers, to keep in mind in the future. As a Latina, it's always great to see and experience more diversity during my travels. Alaska is home to more than 52,000 Hispanics-Latinos, 7.3-percent of the state's overall population.
---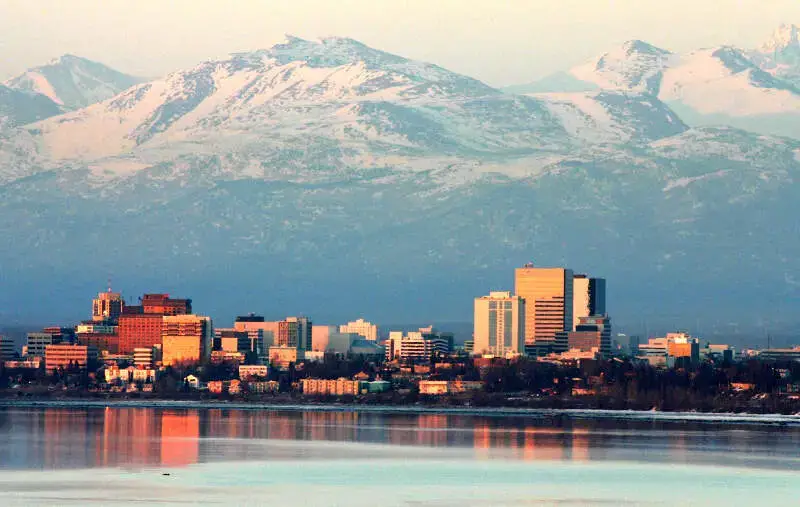 Alaska Cities With The Largest Latino Population For 2021
Fairbanks: Population: 31,551; Hispanic/Latino: 3,143 or 10%
Anchorage: Population: 293,531, Hispanic/Latino: 26,927 or 9%
Juneau: Population: 32,227; Hispanic/Latino: 2,186 or 7%
Sitka: Population: 8,640; Hispanic/Latino: 584 or 7%
Wasilla: Population: 10,071; Hispanic/Latino: 667 or 62%
For complete list visit Homesnacks.com
---
In addition, there are travel companies that work within the Alaska tourism, cruising, and aviation space, that strive for even more inclusion and diversity.
Uncruise Adventures and its CEO, Dan Blanchard, hosted a virtual panel last year called Restarting the Travel Industry. The discussion covered essential topics, including diversity and the current pandemic. I virtually joined the conversation among other travel industry leaders, from Sarah Leonard of the Alaska Travel Industry Association to the CEO of The Adventure Travel Trade Association, Shannon Stowell, and several more professionals.
This year, Alaska Airlines partnered with the United Negro College Fund (UNCF) and revealed a Boeing 737-900ER plane that featured art and quotes from Nelson Mandela and Dr. Martin Luther King, Jr. The aircraft was called "Our Commitment."
Additionally, Alaska Airlines had announced a Diversity, Equity, and Inclusion (DEI) mission with a set date for major changes by 2025. According to the official statement, Alaska Airlines looks to further grow in the areas of racial diversity, "Inclusion Index Score," and public leadership opportunities.
If you plan to do a cruise for Alaska, I recommend planning for a one or two-week stay during the summer season. This way, you can have ample time before or after to explore the mainland of different cities like the capital of Juneau.
Also, it's important to note it can take an entire day of traveling to and from Alaska, all depending on what city you live in. Most likely, you will have to book a connecting flight to Alaska from Seattle. Alaska Airlines has direct routes from the Seattle-Tacoma International Airport to the Juneau International Airport.
While there, one fun way to see the city of Juneau is to board the Goldbelt Tram. It takes you up the forest to the top, where there's a restaurant, bar, a nature center, and hiking trails. Stop at the Timberline restaurant, with top-notch views, where you can watch the trams come up and down while you have a drink or a bite.
Beyond the city life, I would recommend a journey on a cruise. Why? On this trip to Alaska, I realized the many perks of being on a vessel like UnCruise Adventures.
While onboard the Wilderness Discoverer, I met some incredible and diverse travelers. There were singles, couples, and families from all over the states. The captains and crew got to know you by name. They guided you (with highly qualified expedition experts onboard) through breathtaking places found only in Alaska like Glacier Bay National Park, Tongass National Forest Tracey Arm, and Frederick Sound. Skiff boats were on board and available to take you through even the narrowest places like Fords Terror and Tracy Arm.
On Uncruise Adventures, I would wake up excited to open my window to an ever-changing scenery of majestic forest or glaciers. Sometimes, I would sleep with my window open. If there were wildlife or marine life sighting, the crew would make an announcement through the intercom. I grabbed binoculars in my cabin throughout the trip to witness everything from humpback whales, bears, orcas, and bald eagles. There were daily activity options at every stop, from kayaking to glaciers, paddle boarding, to skiff rides, to bushwhacking through the wilderness. And yes, I experienced getting whacked by a few bushes and branches during hikes.
To sum up, what a trip like this to Alaska can provide is an opportunity to be adventurous and brave. I learned that I could do so much more outside of my comfort zone. For instance, it was here where I faced once again my fears of the deep water. But I thought, when else will I be here, so I kayaked up to Lamplugh Glacier and safely did a polar plunge in 39-degree water along with other travelers on Uncruise Adventures. Lastly, there were times on this trip when I could utterly disconnect from everything and everyone else. And I loved it.
---
Jeannette Ceja is an award-winning bilingual travel journalist, television host, travel advisor, and global public speaker.
A seasoned journalist, Jeannette is known for her expertise in women's travel and the Latinx demographic. Her work encompasses luxury travel, female travel, and diversity travel.
Learn more about Jeannette's work by visiting Jet Set with Jeannette.